---
Aug
16
Our New Dance Program!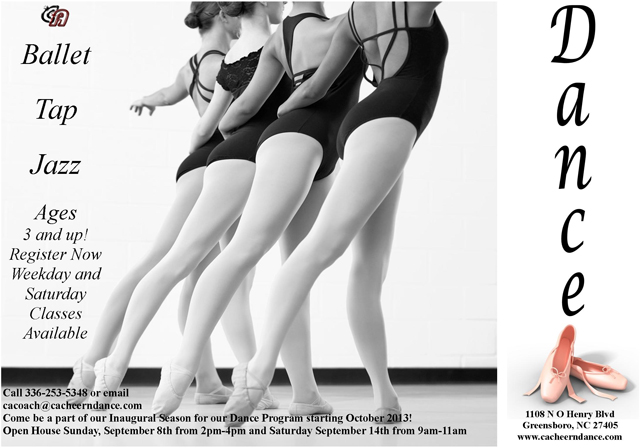 Classes Start 10/3/2013 Open houses on Sunday, September 8th 2pm-4pm and Saturday, September 14th 9am -11am.
---
May
03
Tryouts
If you missed tryouts and want to be a member of CA Cheer, please contact Coach Goode 336.253.5348 and schedule an evaluation Email cacoach@cacheerndance.com
Everyone is welcome at CA! Everyone makes a team *
---
May
01
Tryouts May 4th!
Come join us in Season 5 this is our best season yet! Season 4 was amazing but Season 5 is all the way LIVE! Jam packed with amazing events to compete at and skills during the year to gain!
Can't make tryouts ?? Then email coach_dwight@cacheerndance.com and get scheduled for an evaluation for team placement.
---